Whether you're a contouring newbie or a seasoned pro, the line between "naturally great bone structure" and "she contours too much" can be a fine one. Contouring works differently on all skin tones, skin types and face shapes, which is why there is no hard and fast rule for product placement or the one "best contour kit" for everyone. In this post, I will be discussing tips to help guide your contouring methods and product choices to suit you best.
Probably the most fundamental indicator as to choosing the right contour kits. Most contour kits are labelled Fair, Medium or Dark, which is a nice easy guide as soon as you've established your skin tone accordingly. If you prefer to buy your contouring products individually, don't be afraid to do a swatch of the product on your face to check that the colour works for you. For a highlighter, go with a shade similar to what you might look for in an under-eye concealer. For the darker sculpting product, avoid going more than two shades darker than your natural skin tone. It is always better to get a product that is subtle, but buildable.
Undertones – Cool vs. Warm
If you're lost when it comes to the array of bronzer choices out there (all I needed was a darker brown!) or finding contour shades that will look natural on you, determining your natural undertones will make it a lot easier. I discussed this in my article on "The Quest for the Perfect Nude", but the essence of it is that warm undertones carry a red/yellow base whereas cool undertones carry a blue base. Quick cheat: look at the veins on the underside of your wrists – warm = green veins, cool = blue veins.
WARM:
If you have warm undertones, you have probably noticed that olive green clothes and gold jewellery do wonders for you. In terms of contour, don't be afraid of contouring products with a tinge of orange/red to them, particularly concerning bronzers. Go for blushes that have more of a coral colour, rather than a blue-based pink. This will look more natural on you rather than clashing with your undertones.
COOL:
You'd rock platinum blonde highlights (if you tried them) and may or may not own a lot of blue/grey/purple clothing. Go for contouring products that have more of a grey base rather than the classic terracotta colours. The whole purpose of contouring is to create shadow and reflect light in strategic places. Wearing too warm a colour can make you look like you went a little too heavy with the bronzer. On the other hand, give your cheeks some life by using a blush in a berry or plum colour (think blue/purple as your base colour).
The whole point of contouring is to enhance the shape of your face and your natural bone structure, not to completely change it. Arguably, everyone has a different face shape, but I have included the most common ones below as well as relevant tips.
ROUND: Often the face shape that earns you "baby face" comments. Focus the dark contour underneath your cheekbones, along your jawline and across your temples. Don't be afraid to extend it further in towards the lips, up towards the base of the earlobe and out towards your forehead. This casts more shadow along where you want to create angularity to minimise the roundness. Use highlighter just under the outer corner of the eye and along the bridge of the nose – using it all over the top of the cheekbone runs the risk of creating chipmunk cheeks.
DIAMOND: The classic shape with a narrow hairline, pointed chin and slim cheeks. Probably one of the easier shapes to contour and often don't need contouring at all – highlighter along the tops of your cheekbones, sculpt under your cheekbones with the darker colour and you're good to go.
HEART, INVERTED TRIANGLE: Wide cheeks, a wide forehead and a pointed chin. Definitely two of the "cute" face shapes (tip: you'd look great with long, soft layers). Use more dark contour along your temples than under your cheekbones – sweep it all the way up to your hairline. Place your blush slightly higher on your cheeks and like round-faced girls, keep the highlighter to just under the outer corners of the eyes.
RECTANGLE: Add dimension by contouring your cheekbones and jawline. Emphasise this by using a spot of highlighter on your forehead and bridge of your nose to bring the eye "inwards" – this slims the bottom half of your face in comparison to your forehead.
OVAL: Avoid the long face look by putting the darker contour lower than you normally would – this just proportions the top and bottom halves of the face more evenly. Highlighter on the tops of your cheekbones, extended all the way out to your temples and a little down the bridge of the nose, and you're good to go.
TRIANGLE: Extend the contour all the way down to either side of your chin – this slims your face down. Highlight the under-eye area liberally, as well as the forehead and tip of the chin – this widens the upper part of your face in comparison to the bottom half of your face.
SQUARE: Contouring for square face shapes is similar to triangles – the goal being to emphasise the width of the upper part of the face, and to bring the bottom half inwards by creating shadow. A tip is to start the dark contour a little higher on your cheekbones than you normally would – this elongates the bottom half of the face in comparison to the upper half.
Product Formulation + Skin Type
There are three main types of contouring product formulations on the market at the moment – powders, crayons and liquids. They all work equally well but crayons are generally more fuss free, take up less room in a handbag and they are great for contouring those hard-to-reach areas, like the sides of the nose and even the eye crease if required. On the other hand, powders are very buildable and blendable, and you have much better control of the colour intensity. Liquid formulations act like liquid foundations – smooth application without caking or flaking.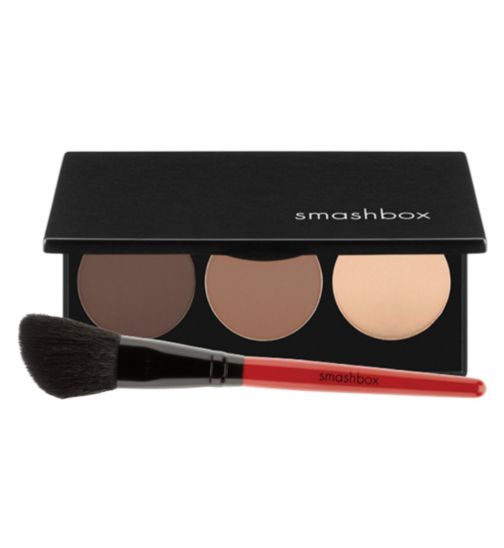 For those with oilier skin, contouring powders kill two birds with one stone – you get an even application as well as a mattifying effect. Those of us with dry skin would benefit from using a liquid foundation, moisturiser, beauty balm or a hydrating face cream underneath. This just helps even out the skin and prevent unsightly flaking. Colour application will also be smoother and last longer than without moisturiser.
This mainly applies to highlighters, blushes and bronzers rather than the darker sculpting colour. A lot of products on the market tend to have some kind of shimmer to them. Personally, I tend to go for matte products simply because they look more natural in daylight, or most kinds of lighting for that matter. The extra light reflection that shimmer provides tends to look great on camera, but can create a harsh glare for day-to-day purposes. The key here is to match it to your preferences and the rest of your makeup. Do you usually wear a matte lip and like your foundation matte and well-set with powder? A little shimmer might be good to add dimension. Do you opt for lip gloss or shimmery eyeshadows on a regular basis? Matte contouring products might be best to balance it out. If you're like me and often go make-up free, look at your skin type. Oily skin? Shimmer may make your skin shinier that it already is. Dry skin? Either can work but shimmer can perk you up. Whatever you choose, moisturise beforehand!
And that's it. Contouring is fun, I promise! Even Especially if you don't really know what you're doing – the best way to learn is to try everything. You go girl.
– J